Fall Monitoring Devices & Medical Safety Alarms
Sofihub's safety monitoring technologies provide care for independent and active individuals. Our intelligent solutions include the TEQ-Life Alarm, a mobile safety alarm with 4G GPS and automatic falls detection.
We also offer the TEQ-FallsAlert fall detection radar and the TEQ-Secure personal safety alarm. These non-intrusive solutions enable greater independence and peace of mind, for the user as well as their families and carers. 
Care even when you're not there
TEQ-Life 4G GPS mobile safety alarm
Ideal for anyone who is independent, active and wants to feel safe, inside or outdoors.
Buy Now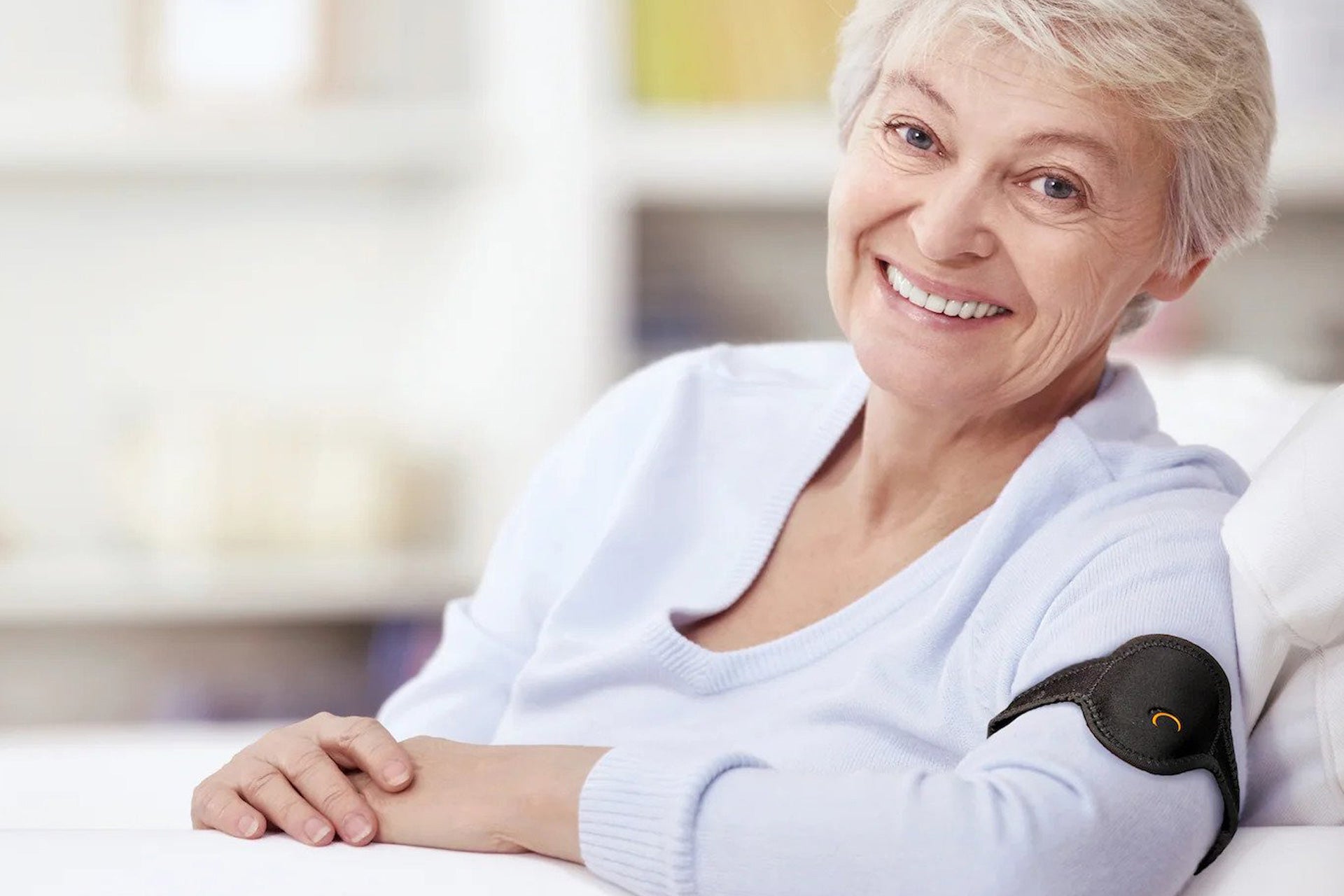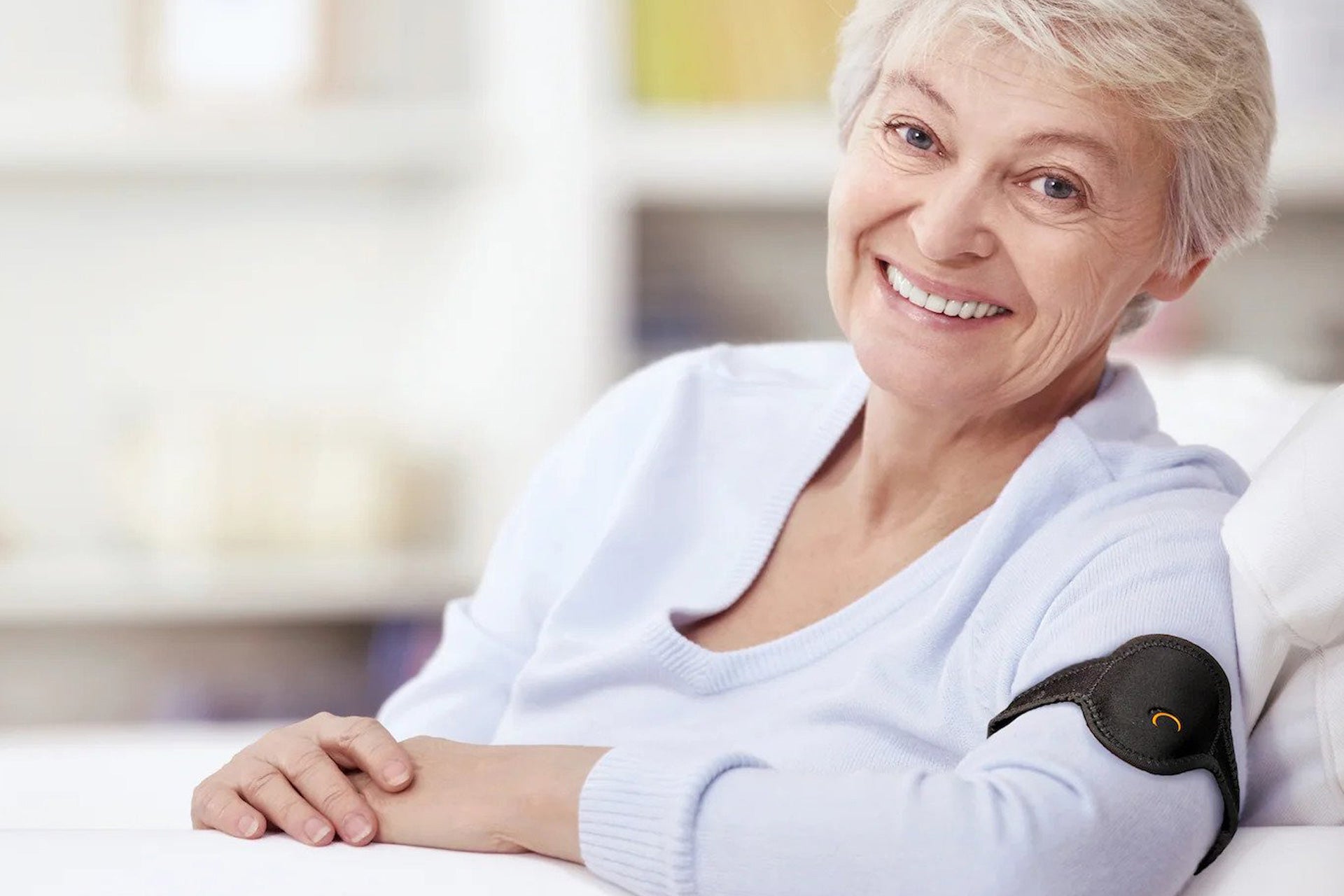 Falls detection
In-built, instant falls detection. When a fall is detected, the device will instantly send for help via SMS and voice calls.
Two-way voice calls
Using the in-built speakerphone, make and receive calls, ensuring you can keep in contact with the TEQ-Life user at all times.
Geofencing
Set safe areas and be notified if the user enters or exits these locations.
Live location
Real-time live location tracking with in-built GPS means you can pinpoint exactly where the user is at any time.
"As my dear husband has aged, he's been struggling with unsteadiness on his feet. Unfortunately, he's experienced three falls recently, leaving him unable to get up. This constant worry has prevented me from leaving him alone, since I fear he might fall again. It's been frustrating for both of us. However, the TEQ-Life has been an absolute blessing! Now I can go out with peace of mind. This device has given us back our independence, and we're so grateful. Thank you, TEQ-Life!"
"Mum's very active but lives alone on a farm and even though we have people there during the day, she's alone at night. I used to worry she'd had an accident, especially if I forgot to call in the evening. I hate the thought of no one finding her till the morning. The TEQ-Life gives me peace of mind that that hasn't happened"
Thank you!! This is exactly what my mum needed! She's excited that she can be more independent now and not risk falling without being able to call for help when she's out and about. It's made her feel more in control of her life. Can't thank you enough!
"My mother is very resistant to outside help, I tried to get her a nurse, a cleaner, but she refused. I live so far away and it worried me. Especially as she keeps losing her phone or forgetting to take it off silent. With TEQ-FallsAlert I at least know she hasn't fallen somewhere"
TEQ-FallsAlert is the best thing ever. My 92 year old mother had a fall the other day. And a small heart attack. It alerted me and I went straight to her house. Because mum was able to get help fast, she is still alive today. I highly recommend this product
I had a fall and could not get up - my back seized up, probably due to my Osteoarthritis - but I managed to call my emergency contact with my TEQ-Secure who let herself in and helped me get back up. Who knows how long I would have lain there otherwise. I'm very grateful I had it on me at the time.
24/7
Health Monitoring Devices For Independence and Peace of Mind
Sofihub personal alarms allow you to live a full life. Ideal for seniors who enjoy being independent and active, use our SOS pendants or fall detection devices ensure help is at hand should the need ever arise.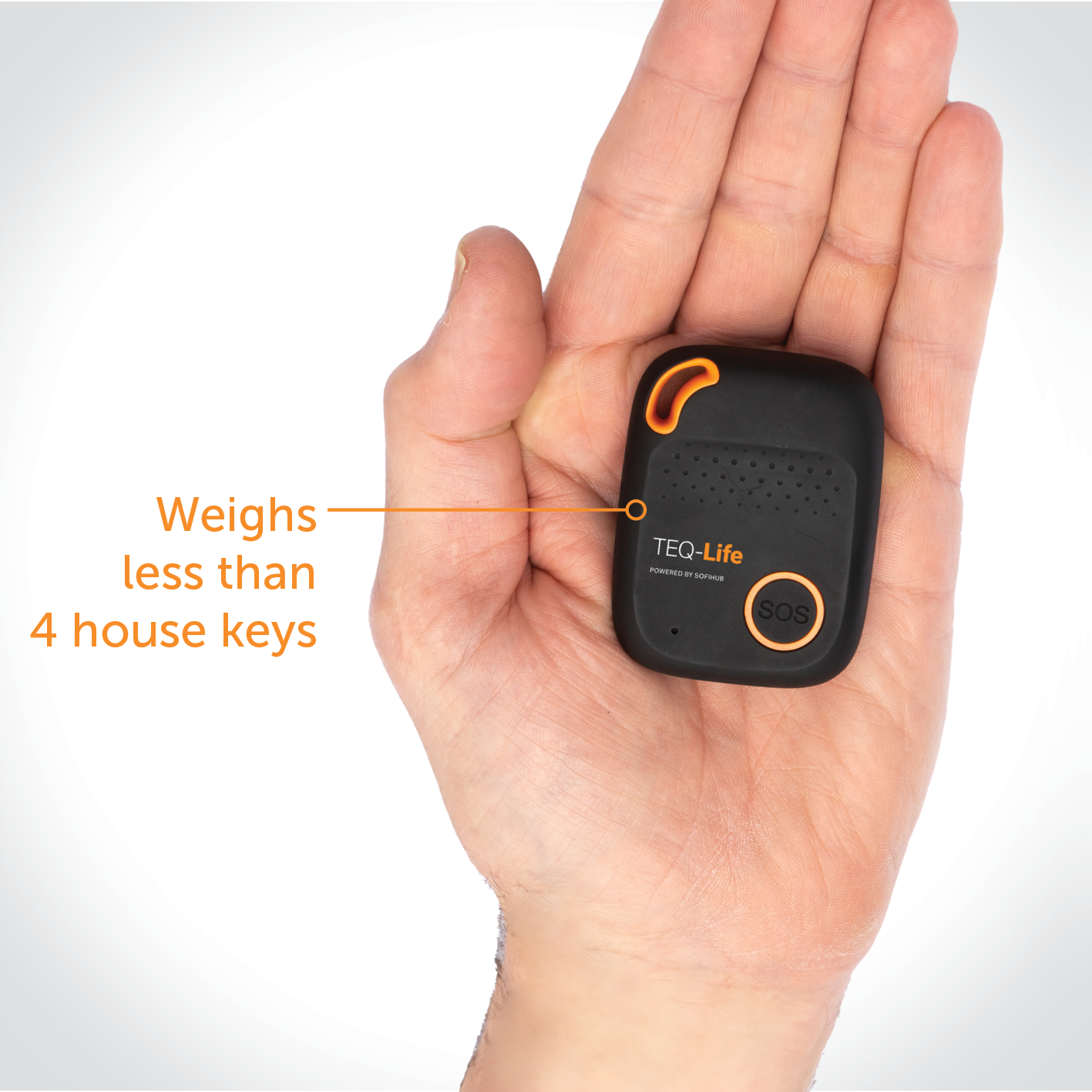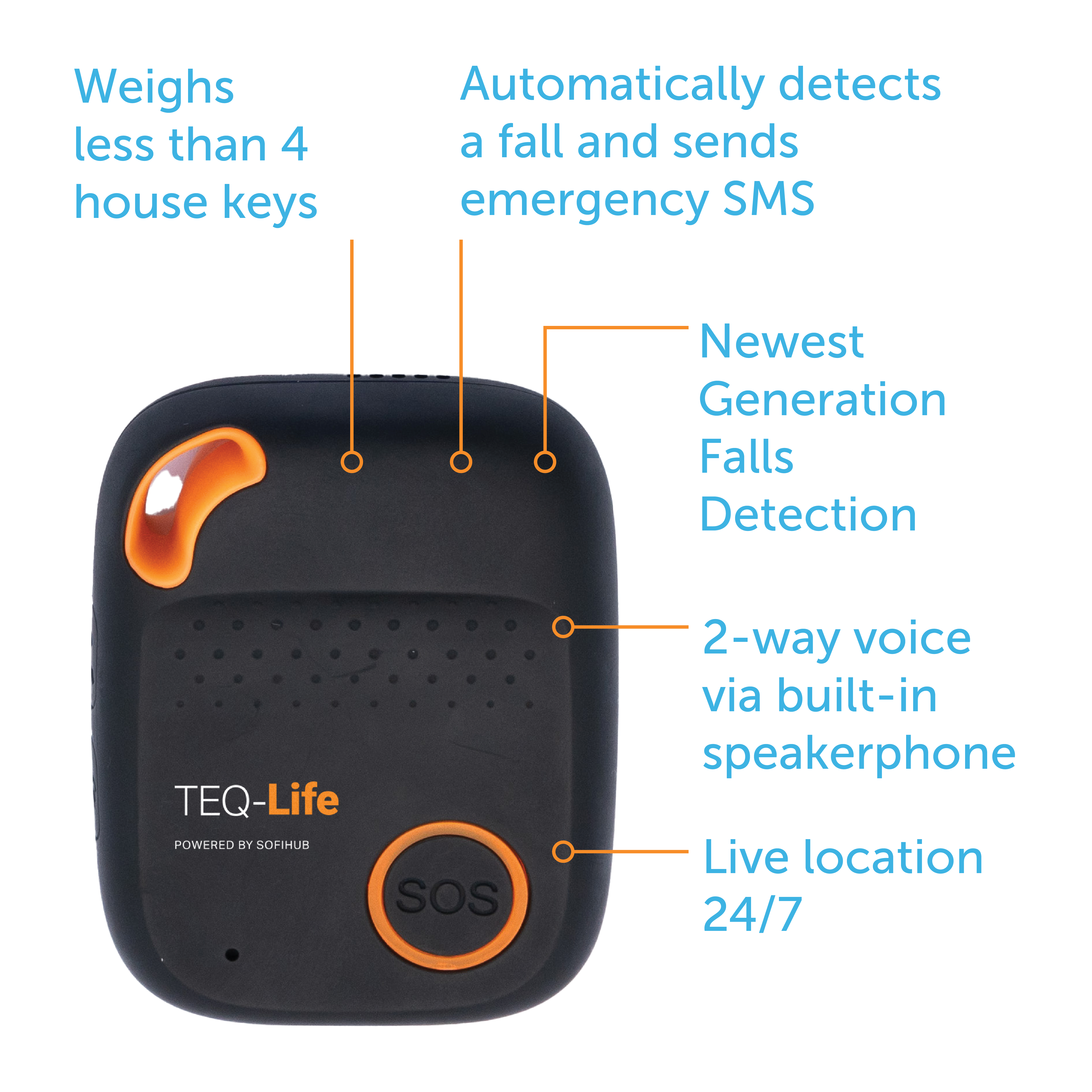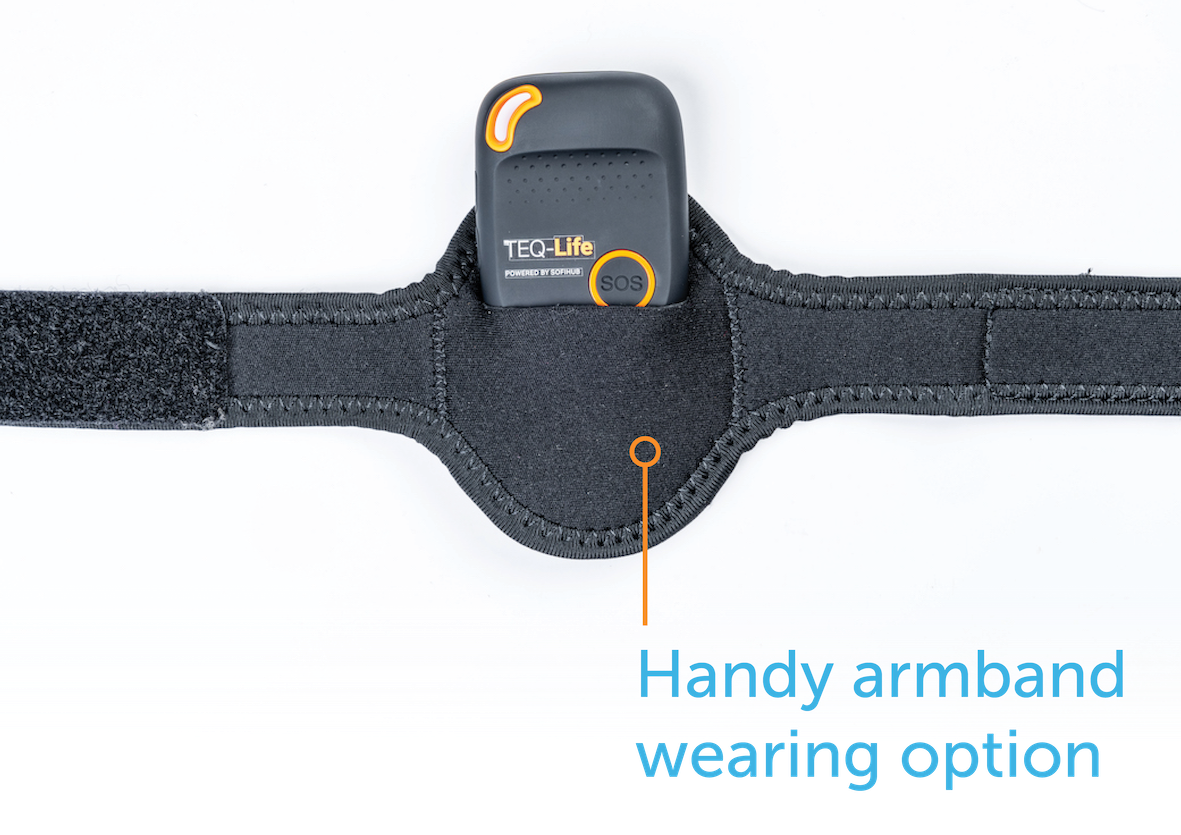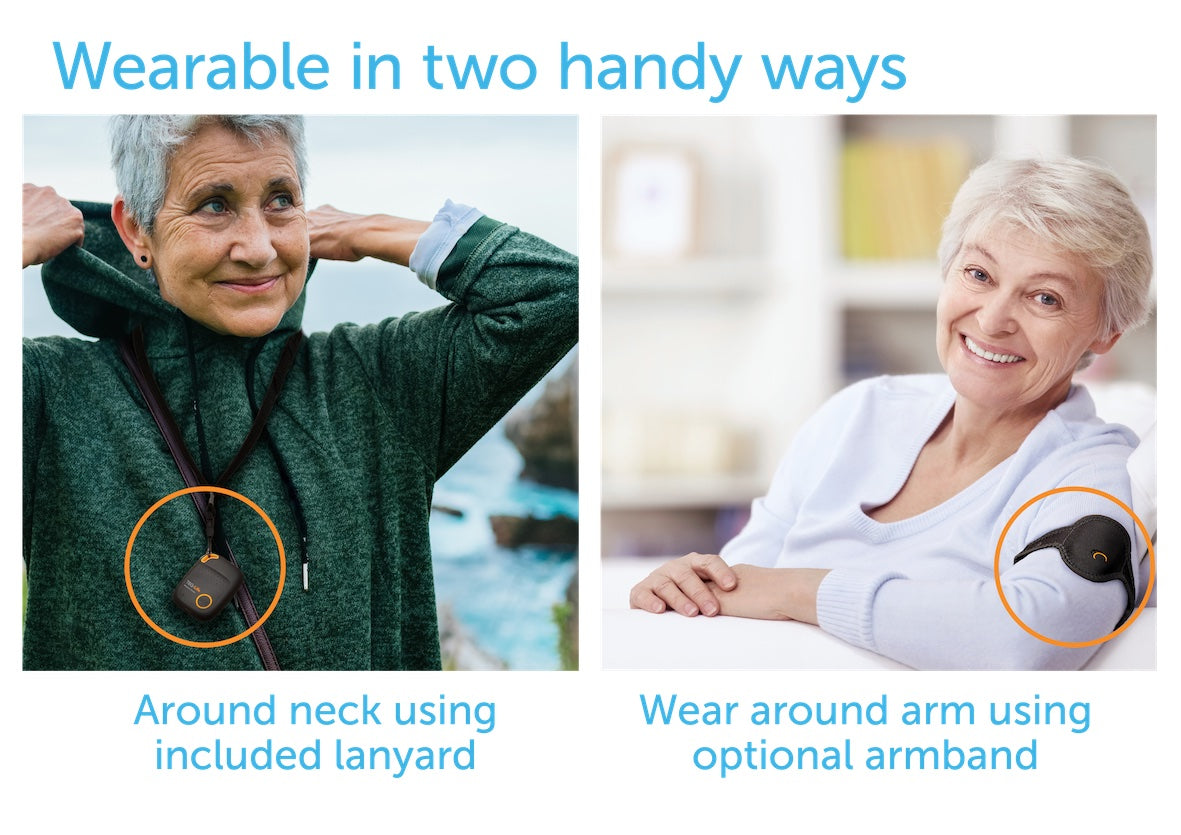 ---
2024 model in stock and available now!
Elevate Your Safety with the 2024 TEQ-Life Alarm
Armed with 4G & GPS capabilities with 3G rollback, TEQ-Life Alarm works anywhere there is mobile reception. It's waterproof, tough, and as user-friendly as they come. Choose to wear it with the included lanyard or armband, or simply in your pocket or purse. 
With a simple tap of the SOS button or in the event of a fall, the TEQ-Life Alarm sends texts and calls up to 10 pre-programmed contacts (don't worry, we'll take care of the setup). What's in the SMS? Vital info – time, date, user's name, and an exact GPS location to pinpoint you with precision.
If one contact doesn't answer, the alarm dials the next contact until it gets a response. Once connected, you're in for clear, two-way voice communication thanks to the device's built-in speakerphone. We've cranked up the volume to ensure impeccable sound quality in our 2024 model.
If voicemail answers, the TEQ-Life Alarm will hang up and continue to call the emergency contacts until it succeeds. Contacts can also call the device just like a regular mobile phone.
False alarms? A thing of the past! If you trigger one accidentally, just press the oversized SOS button and the alarm will be cancelled. In our 2024 model, we've gone a step further with voice prompts, guiding you through the cancellation process. Want to make extra sure there are no false alarms? You can even adjust the fall detection sensitivity!
Standout Features:
SOS Button: Quick 10-second cancellation window for false alarms

Fall Detector: Tune sensitivity and enjoy a 10-second cancel option

GPS Locator: Track your location during emergencies or when concerns arise

Calls and Texts: Reach out to up to 10 contacts via SMS and phone calls

Speed Dial: Call a designated contact at the press of a button

Inbound Calls: Auto answer after a customised number of rings

Geo-fencing: Ideal for dementia patients – alerts contacts when you venture outside a defined area

Low Battery SMS: Keeps contacts informed when the battery runs low

Lightweight: weighs less than 4 standard house keys

Telstra SIM to cover 99.5% of the Australian population

Unlimited data, calls and texts
New for 2024:
FREE armband: you asked, we listened! Use the included armband for the most comfortable wearing option. (Lanyard also included.)


Audible Voice Prompts: Clear spoken instructions

Auto Time Zone: No need to adjust the time for daylight savings

Fast Calling: No waiting during the cancellation window

Off/Out Of Range Alert: Emergency contacts are notified when the device is off or out of range

Smart Dock: Keep your device charged without worrying about battery wear

Silent Mode: For discreet emergencies – your contacts can listen in without alerting any threats

Orange Button Design: the SOS button is easy to find in an emergency
Trusted by Healthcare Pros: Our products come with the endorsement of healthcare experts, including Doctors, Nurses, Occupational Therapists, Social Workers, Plan Managers, Aged Care Providers, and other healthcare industry professionals!
Ready for a safer, more independent tomorrow? Call us free on 1800 776 753 to learn more about our range of medical and life alarms. Rest assured, lifetime phone and online support come with every purchase, guaranteeing your peace of mind.
Choose the TEQ-Life Alarm today and embrace safety and independence like never before.
NDIS participant or Home Care Package? No problem! We are a registered provider and can help you get this funded. Please complete the form at the link below for a quote or to purchase:
Easy Installation and Simple Set Up
Installation and set up couldn't be easier. Simply plug in or charge, get alerts, send help if needed. We'll even pre-programme your emergency contacts for you!
Shop Personal Alarms Online
At Sofihub, we believe in using technology, through our personal alarms, to improve well-being for active seniors who wish to retain their autonomy. We promote independence and peace of mind for the user and their families and friends.
Our intelligent devices such as the personal safety alarm, has changed the lives of many who now know help can be at hand at the touch of an sos button. Our fall detection device is perfect for those who do not wish to remember to charge, or wear a physical device.
As Australia's leading Assistive Technology company, our devices can be found in homes, hospitals, residential aged care facilities, retirement communities and retailers throughout Australia, including Sydney, Brisbane, Perth, Adelaide and Melbourne.
Sofihub products and solutions trusted by