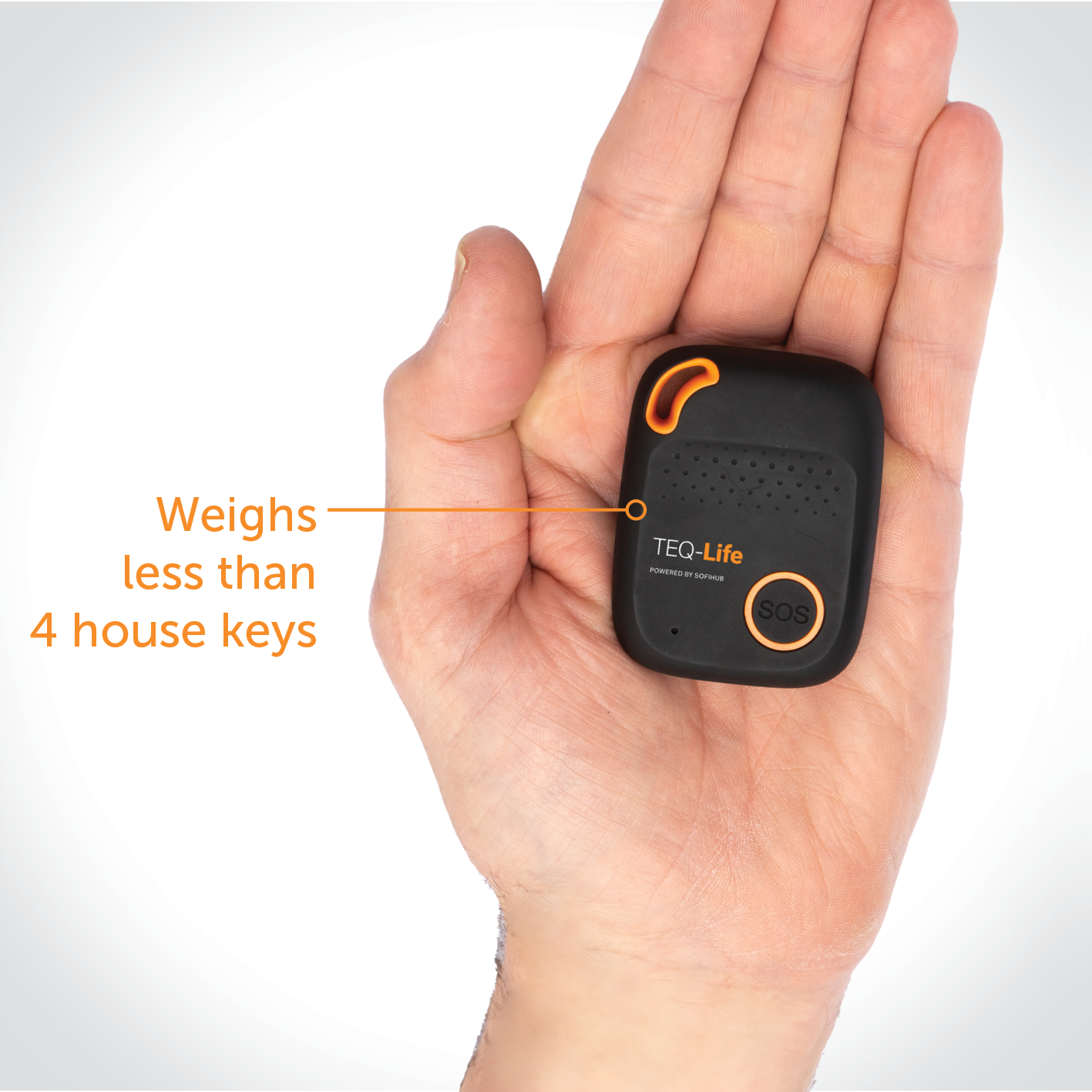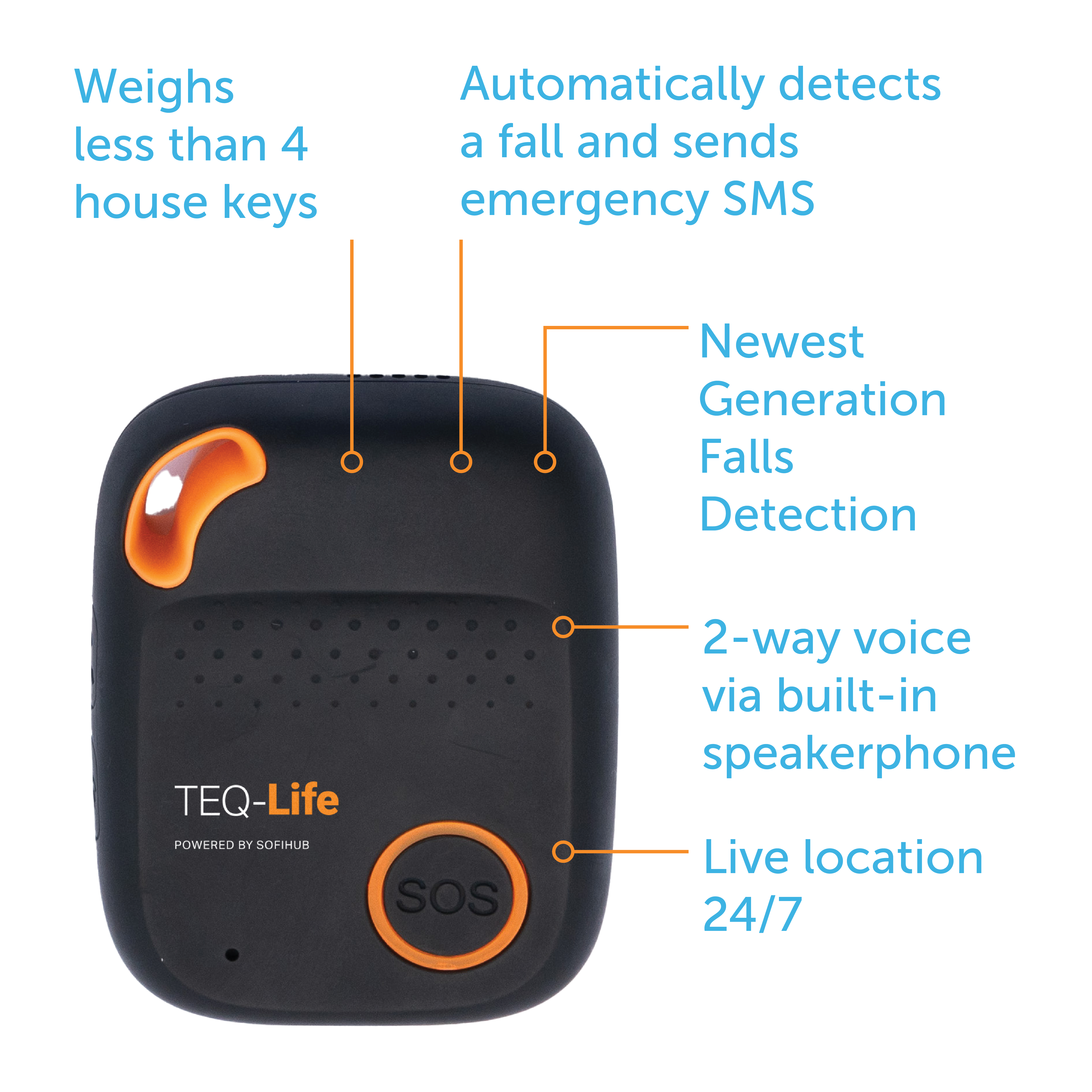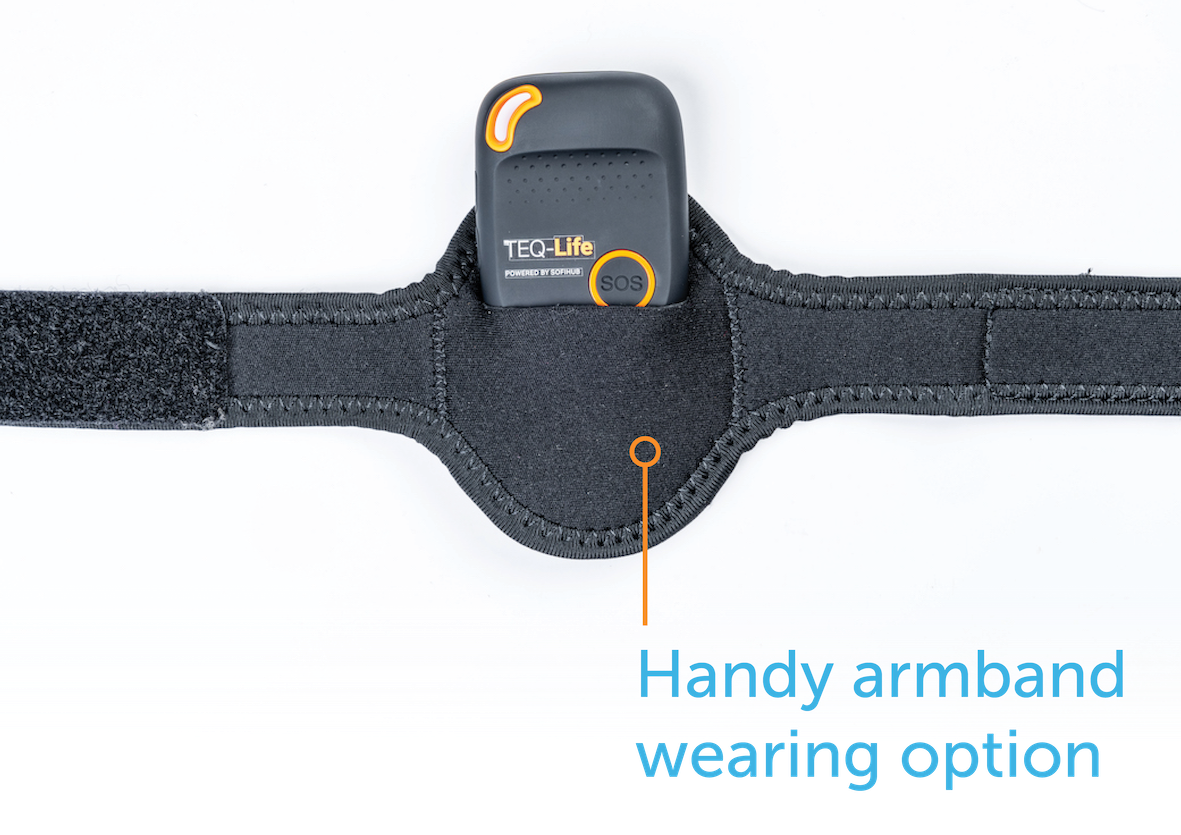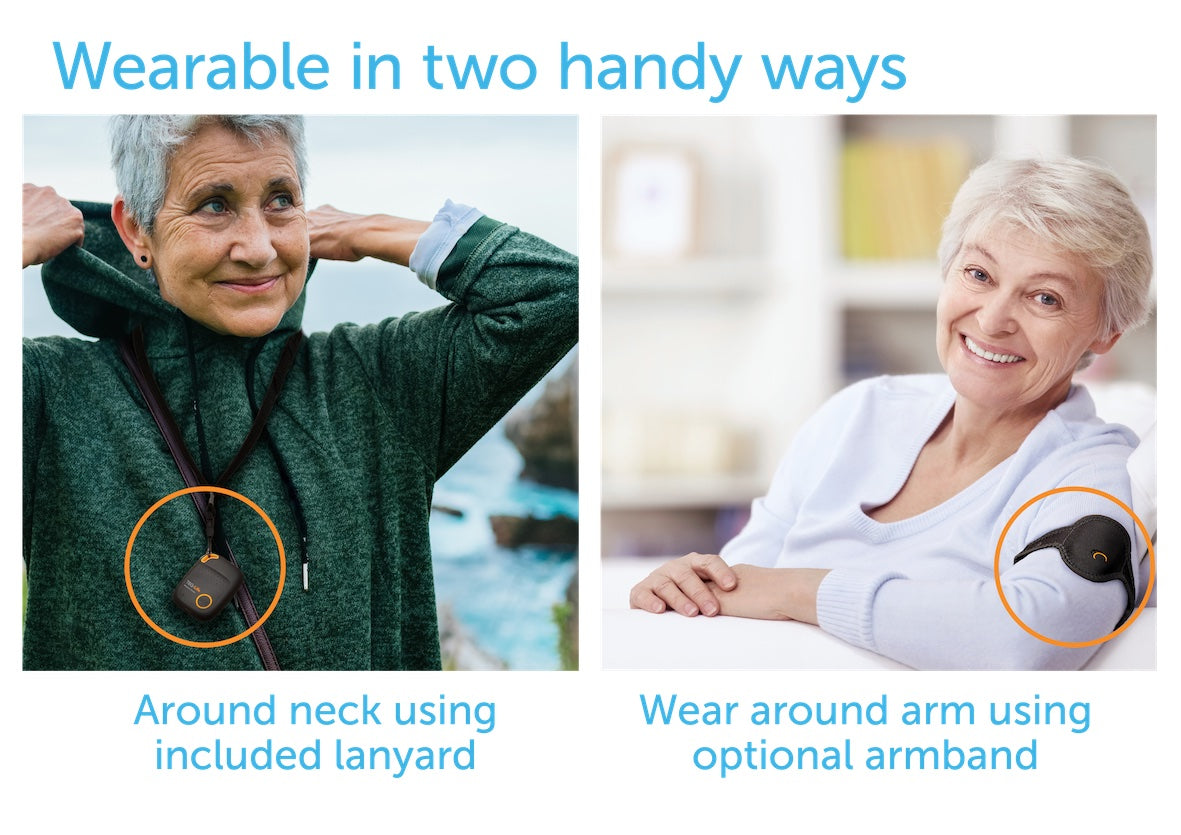 4G TEQ-Life Alarm GPS and fall detection NEW 2024 model
Mobile safety alarm sends SMS and calls emergency contacts if SOS button is pressed or a fall takes place.
Includes Telstra SIM for widest coverage and 12 months' UNLIMITED connectivity, calls and text messages
NDIS participant or Home Care Package? No problem! We are a registered provider and can help you get this funded. Please complete the form by clicking on the buttons below:
Each purchase of a TEQ-Life includes a one year COMPLIMENTARY National Seniors membership (valued at $49.50)
---
2024 model in stock and available now!
Elevate Your Safety with the 2024 TEQ-Life Alarm
Armed with 4G & GPS capabilities with 3G rollback, TEQ-Life Alarm works anywhere there is mobile reception. It's waterproof, tough, and as user-friendly as they come. Choose to wear it with the included lanyard or armband, or simply in your pocket or purse. 
With a simple tap of the SOS button or in the event of a fall, the TEQ-Life Alarm sends texts and calls up to 10 pre-programmed contacts (don't worry, we'll take care of the setup). What's in the SMS? Vital info – time, date, user's name, and an exact GPS location to pinpoint you with precision.
If one contact doesn't answer, the alarm dials the next contact until it gets a response. Once connected, you're in for clear, two-way voice communication thanks to the device's built-in speakerphone. We've cranked up the volume to ensure impeccable sound quality in our 2024 model.
If voicemail answers, the TEQ-Life Alarm will hang up and continue to call the emergency contacts until it succeeds. Contacts can also call the device just like a regular mobile phone.
False alarms? A thing of the past! If you trigger one accidentally, just press the oversized SOS button and the alarm will be cancelled. In our 2024 model, we've gone a step further with voice prompts, guiding you through the cancellation process. Want to make extra sure there are no false alarms? You can even adjust the fall detection sensitivity!
Standout Features:
SOS Button: Quick 10-second cancellation window for false alarms

Fall Detector: Tune sensitivity and enjoy a 10-second cancel option

GPS Locator: Track your location during emergencies or when concerns arise

Calls and Texts: Reach out to up to 10 contacts via SMS and phone calls

Speed Dial: Call a designated contact at the press of a button

Inbound Calls: Auto answer after a customised number of rings

Geo-fencing: Ideal for dementia patients – alerts contacts when you venture outside a defined area

Low Battery SMS: Keeps contacts informed when the battery runs low

Lightweight: weighs less than 4 standard house keys

Telstra SIM to cover 99.5% of the Australian population

Unlimited data, calls and texts
New for 2024:
FREE armband: you asked, we listened! Use the included armband for the most comfortable wearing option. (Lanyard also included.)


Audible Voice Prompts: Clear spoken instructions

Auto Time Zone: No need to adjust the time for daylight savings

Fast Calling: No waiting during the cancellation window

Off/Out Of Range Alert: Emergency contacts are notified when the device is off or out of range

Smart Dock: Keep your device charged without worrying about battery wear

Silent Mode: For discreet emergencies – your contacts can listen in without alerting any threats

Orange Button Design: the SOS button is easy to find in an emergency
Trusted by Healthcare Pros: Our products come with the endorsement of healthcare experts, including Doctors, Nurses, Occupational Therapists, Social Workers, Plan Managers, Aged Care Providers, and other healthcare industry professionals!
Ready for a safer, more independent tomorrow? Call us free on 1800 776 753 to learn more about our range of medical and life alarms. Rest assured, lifetime phone and online support come with every purchase, guaranteeing your peace of mind.
Choose the TEQ-Life Alarm today and embrace safety and independence like never before.
NDIS participant or Home Care Package? No problem! We are a registered provider and can help you get this funded. Please complete the form at the link below for a quote or to purchase:
How does the TEQ-Life alarm work?
At home or outdoors, press the SOS button or fall over
The alarm automatically calls up to 10 contacts and sends up to 10 text messages with your exact location pinpointed on a map
When one of your contacts answers, they can speak to you through the built-in speakerphone
See how we stack up against other mobile safety alarms
| | | |
| --- | --- | --- |
| Feature | TEQ-Life | Other mobile alarms |
| Lightweight | | |
| Automatic falls detection | | |
| 2-way voice | | |
| Live location | | |
| Geofencing | | |
| Waterproof | | |
| Online portal | | |
| Mobile app | | |
| Set fall sensitivity | | |
| Number of emergency contacts | 10 | 4 - 8 |
| Armband | | |
| No ongoing monitoring fees | | |
| Unlimited data, calls and texts | | |
Pre-programming your TEQ-Life
Your TEQ-Life can be programmed with up to 10 emergency contacts. These are friends or family members who will be contacted in case of an emergency. We can set this up for you so your TEQ-Life alarm is ready to use straight out of the box. After purchasing the TEQ-Life, we'll send you an order confirmation email with a link to submit these details to us.
Safety first with UNLIMITED data, calls and SMS
Don't get caught out! Many mobile safety alarms have a cap on data and calls and some even charge extra for SMS usage. This means that when the data, call or SMS quota is used up, the alarm will either not work or you will receive an additional monthly bill. This either leaves you vulnerable without a working safety alarm, or in shock from unexpected charges.
We will never take that risk with your health and we are 100% transparent with our pricing, so we ensure the TEQ-Life mobile alarm is equipped with UNLIMITED data, calls and SMS. Safety first.
Who is the TEQ-Life alarm for?
The TEQ-Life alarm is ideal for anyone who is independent, active and wants to feel safe, inside or outdoors.
The TEQ-Life alarm also suits someone who does not have a mobile phone or who finds using a mobile phone tricky.
With GPS live location, SOS button and automatic falls detection, you can be sure help will be at hand the second it is needed.
Charging and battery
Your TEQ-Life alarm comes with two easy charging options: a charging base (pictured) and a cradle and USB cord. Wall plug is also included.
The TEQ-Life will automatically start charging once it is in the base or cradle and connected to a power source. It only needs 20 minutes charge to function, although to fully charge we recommend an hour.
The battery life is around 40 hours. It depends on the mobile reception; if the mobile reception is bad (ie somewhere very rural), the alarm will need charging more frequently than 40 hours, if the reception is good (eg in an urban area), the alarm will have a longer than 40 hour battery life.
We find our clients like to put their safety pendant in its charging base overnight so it is fully charged and ready to go each morning. It doesn't hurt the mobile alarm to leave it in the charging base overnight.
Reviews
"Thank you!! This is exactly what my mum needed! She's excited that she can be more independent now and not risk falling without being able to call for help when she's out and about. It's made her feel more in control of her life. Can't thank you enough!"
"I experienced a fall, and I found myself unable to stand up. My back, likely aggravated by my osteoarthritis, had seized up on me. Fortunately, I had my TEQ-Life with me. It made a call to my emergency contact, who promptly arrived, letting herself in and assisting me in getting back on my feet. It's unsettling to think how long I might have been on the ground without it. I am profoundly thankful that I had it with me during that crucial moment..."
"After my recent operation I haven't been as steady on my feet as usual. One of my favourite activities is walking my dog but after I tripped in the park on my own with the dog, my wife has been terribly worried about me going on my own. I do feel more secure now I have the TEQ-Life and she feels more comfortable knowing I can call for help if I need to."
FAQ
Questions? Check out our FAQs below, ask us on live chat, email support@sofihub.com or call 1800 776 753.
What is the TEQ-Life alarm?

The TEQ-Life 4G mobile alarm will provide you and other family members' peace of mind wherever you are, whether that is out and about or at home, that help is at hand at the touch of a button.

Using a Telstra SIM to ensure the widest coverage, the TEQ-Life alarm works wherever there is mobile network coverage in Australia.

When you press the SOS button, it texts a help message with your location, then starts calling up to 10 emergency contacts one by one. It also includes an in-built fall detection capability.

The alarm includes a "smart voice guide" that talks you through your emergency. Family and friends can even call the alarm if they want to talk to the wearer.

The TEQ-Life alarm is waterproof and very simple to use.
Why buy the TEQ-Life alarm?

The TEQ-Life alarm is ideal for anyone who is independent and goes out of the house by themselves. It is especially useful if the person is a falls risk, if they have dementia, wandering, or may need help or assistance when out and about. It can be used for those without a mobile phone or who have challenges using a mobile phone.

In addition, if someone works alone or remotely, it adds an additional layer of safety during the course of their working day.
Who is TEQ-Life alarm for?

The TEQ-Life alarm is primarily designed for seniors, especially those who suffer from various medical conditions and disabilities. It is highly recommended for most seniors and considered essential for individuals who are at risk of falls or experience sudden onset of acute symptoms or deterioration in their existing condition.

Additionally, doctors, nurses and caregivers often recommend TEQ-Life for seniors who have recently been discharged from hospital in many situations.
How do I set up my TEQ-Life alarm?

Setting up the TEQ-Life alarm is simple. We can pre-program the mobile alarm with your emergency contacts before dispatching it to you so it is ready to use straight out of the box. All you need to do once you receive it is to charge it and turn it on.

You will need a SOFIHUB account to edit, add or remove your emergency contacts and make use of the geofencing, fall sensitivity and other features of the device. The user of the device does not need to be the person who sets up the account. A friend or family member can be the Account Manager.

A SOFIHUB account can be easily set up via the online portal or mobile app. These details are included in the Quick Start Guide in the box.
Is the TEQ-Life alarm 4G and do I need to buy a SIM card?

The TEQ-Life alarm comes with a built-in Telstra 4G SIM card with 3G rollback. This covers all data usage including outgoing phone calls, emergency text messages, data usage, access to the app, and live, online monitoring software.

The first 12 months' connectivity is included when you purchase your TEQ-Life alarm. At the end of the 12 months you will have the option to renew it at $16.50 per month, or $198 annually.
Can I call the TEQ-Life alarm like a normal phone?

Yes, the TEQ-Life alarm can receive calls like a normal mobile phone, allowing for instant hands-free two-way voice communication.
What happens if the SOS button is pressed or a fall takes place?

If an alert is triggered via the SOS button or a fall is detected, the TEQ-Life alarm will send an SMS alert to a nominated carer or family member. This SMS will include a link to the last known location. The TEQ-Life alarm will then follow  up swiftly with a two-way voice call. If the first alert goes unanswered, the TEQ-Life alarm will send an alert to the second contact on the emergency contact list and will continue to the next contact and so on until the alert is answered and reset on the SOFIHUB portal or app.
How many emergency contacts can be registered?

Up to 10 emergency contacts can be registered.
Does the TEQ-Life require Wi-Fi to work?

No, the TEQ-Life alarm does not require Wi-Fi to work as it has an in-built Telstra 4G SIM card which allows connectivity wherever there is mobile reception.
What is the battery life of the TEQ-Life?

The average battery life of the TEQ-Life is 40 hours. However, this can be affected by the cellular reception in the area. If the TEQ-Life alarm is in an area with good reception, the battery life can be longer than 40 hours. In areas with bad mobile reception, this can shorten the time.
What are the minimum mobile requirements for the mobile app?

The Account Manager of the TEQ-Life (this odes not have to be the end user) will need to set up a SOFIHUB account via the online portal or mobile app.

The minimum mobile requirements for using the mobile app are:
iOS v13+
Android v29+

As at Nov 2023.
Where can I access the TEQ-Life User Guide?

You can download the TEQ-Life User guide here.
Have you got more questions?

Check out our FAQs page, click on our live chat, email support@sofihub.com or call 1800 776 753.
Our customer support is available Monday to Friday: 9am-6pm.
Average answer time: 24h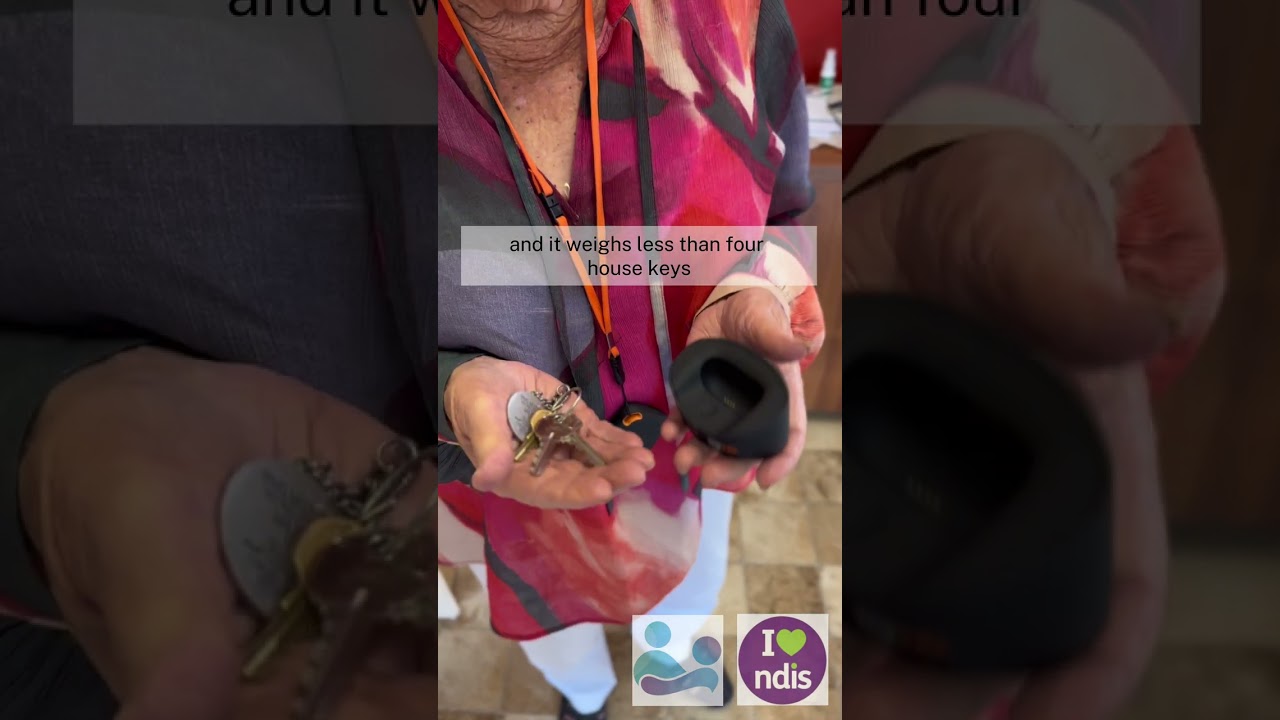 Sofihub products and solutions trusted by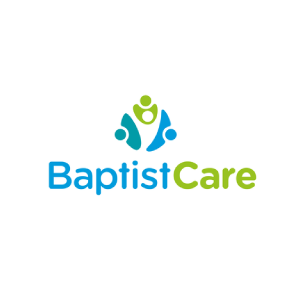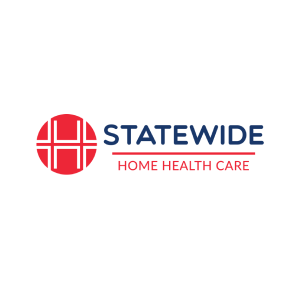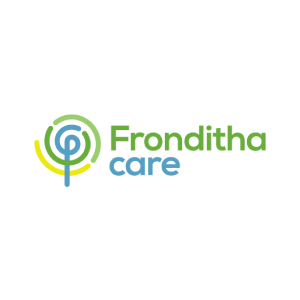 Featured Highlights
In-built falls detection. Sends emergency SMS with live location & calls up to 10 contacts
Geofencing allows safe areas to be set and alerts sent if user enters/exits these locations
Uses the full 4G Telstra mobile network covering 99% of Australia's population
Has 2-way hands-free voice calls with high quality, easy to hear audio
Family and friends can call the safety pendant. Pendant can call out to nominated contacts.
12 month warranty. 30 day no questions asked returns policy (in original packaging)
Best possible indoor & outdoor mobile signal strength using 4GX with 3G rollback
Fully waterproof
What is included
TEQ-Life alarm
Charging base
USB cable
Plug
Charging cradle
Lanyard
Quick start guide
Armband (optional)
National Seniors one year membership (optional)
FREE National Seniors membership with every TEQ-Life (valued at $49.50)
As a National Seniors member, you are entitled to a host of discounts on everyday essentials, appliances and services. Plus, you will be supporting a not-for-profit organisation committed to achieving better outcomes for all older Australians. For more information, click here.
About us
SOFIHUB is an Australian company based in Melbourne, Victoria. We started in 2016 through a project with Deakin University. Our mission was simple; we wanted to help older people and people with disabilities to be independent and at the same time provide peace of mind for their families and carers.
 Out of this simple idea, the SOFIHUB was born; a passive, non-intrusive activity monitoring system that could be programmed with smart reminders. We quickly partnered with the TAC (Transport Accident Commission) to help people with Acquired Brain Injury (which can affect short term memory and task initiation), live independently. Watch the video at the link below to see how SOFIHUB helped Josh and his family.
 https://www.youtube.com/watch?v=yU5RjKKymEw
Building on the success of this initiative, we developed more technologies - such as the TEQ-Life mobile safety alarm - with this same mission in mind.
Nowadays, we are proud to say that SOFIHUB is trusted by many hospitals, aged care facilities, retirement villages and families.
Call us on 1800 776 753